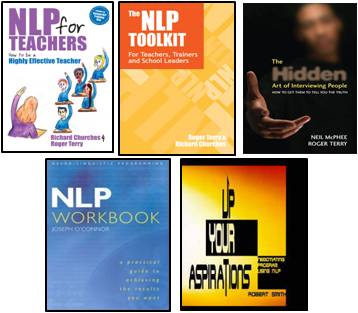 Are you feeling overwhelmed by the amount of information that is available on NLP techniques, but don't know where to look?  Look no further.
Here are 5 fantastic books that will help you learn and understand NLP techniques and put them into practice.
NLP For Teachers by Richard Churches and Roger Terry.  This book will give you the tools you need to be a better teacher and communicator, both inside and outside of the classroom. Although written with teachers in mind the book is a great beginners guide to practical NLP in any situation.
The NLP Toolkit by Roger Terry and Richard Churches.  This must-have is a comprehensive toolkit of NLP techniques to help you be a better leader, trainer, or teacher.
NLP and the Hidden Art of Interviewing by Neil McPhee and Roger Terry. This is an excellent book to cultivate interviewing skills and includes such NLP techniques as reading facial expressions and body language.
Up Your Aspirations by Robert Smith.  An absolute necessity for anyone who feels caught in the gears of the business world and needs the ninja techniques of negotiation using NLP.
NLP Workbook by Joseph O'Connor.  This is a beginner's manual and guidebook and a useful place to start with NLP.
Whether you're a beginner or a practitioner or trainer in NLP techniques, these books will serve as valuable resources in your NLP toolkit.
For more information on how learning NLP can dramatically improve your life, professional pursuits, and relationships, read our groundbreaking FREE ebook, "Resourceful Living: How NLP Can Improve Your Seven Life Streams".
The following two tabs change content below.
Roger Terry is one of the world's leading experts on applying NLP to drive excellence both professionally and personally. Roger leads seminars and consults with companies all over the world, including in the UK, USA, Europe and Middle East. He is the author of several books, including The Hidden Art of Interviewing, NLP and Qualitative Research, NLP for Teachers and The NLP Toolkit.
Latest posts by Roger Terry (see all)