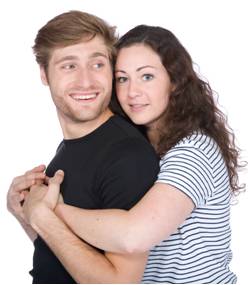 Are you a glass half-empty or half-full sort of person? As you've often heard, your answer can indicate if you are a person who tends toward positive thinking or negative thinking. It also can be a clue about your effectiveness with interpersonal relationships.
Research shows that people who frame experiences with positive thinking are at an advantage when forging meaningful interpersonal relationships. What qualities help positive thinkers create and build successful personal relationships?
Confidence. Positive thinkers are more apt to greet others with confidence. Confidence facilitates pleasant interactions in general and helps others feel comfortable.
Positive Expectations. Interacting with others in a way that sees the best in them minimises obstacles to understanding and assumes successful outcomes.
Happiness. People who have a positive perspective are less likely to suffer from depression and stress and are more likely to enjoy a sense of well-being.
Positive thinking is not a way of glossing over reality. It's seeing and feeling, then turning moments into opportunity.
For more information on how learning NLP can dramatically improve your life, professional pursuits, and relationships, read our groundbreaking FREE ebook, "A Resourceful Life: How NLP Can Improve Your Seven Life Streams" .
The following two tabs change content below.
Roger Terry is one of the world's leading experts on applying NLP to drive excellence both professionally and personally. Roger leads seminars and consults with companies all over the world, including in the UK, USA, Europe and Middle East. He is the author of several books, including The Hidden Art of Interviewing, NLP and Qualitative Research, NLP for Teachers and The NLP Toolkit.
Latest posts by Roger Terry (see all)