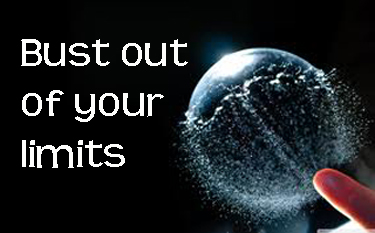 BUST YOUR BELIEFS AND BUILD YOUR FUTURE
We all have places in our world where our beliefs hold us back we know. We should be capable and yet we just don't quite get it together. When we need to move forward with our goals or want to start a new project and have those nagging doubts that stall us it is our limiting beliefs that are in the way. What we believe about ourselves, the world, money and our relationships shape our actions or inactions.
Need to reach your goals but just fall short?
Feel you are stuck yet know what you should be doing?
No sure what stops you?
Then Bust your negative beliefs and…
Start to enjoy your relationships, work, family and life
Design and take on positive beliefs  that energise and empower you
Open up more possibilities for yourself
Believe that life is be FUN
Believe that you are worth it
Believe you are capable
Spend the day with Roger and you will be guided through the best belief busting techniques drawn from NLP, Hypnosis and EFT. Clear existing blocks and install new belief systems that will grow and support you in your world.

Call 01243 792122 to book your place or use the book now button below
Location: Evolution Training, Oving
Cost £96 inc vat
The following two tabs change content below.
Roger Terry is one of the world's leading experts on applying NLP to drive excellence both professionally and personally. Roger leads seminars and consults with companies all over the world, including in the UK, USA, Europe and Middle East. He is the author of several books, including The Hidden Art of Interviewing, NLP and Qualitative Research, NLP for Teachers and The NLP Toolkit.