Have total Confidence, Competence and Creativity to navigate to success in life
If you want to head into the post Covid 19 world prepared and with a set of incredible NLP skills at your fingertips, then now is the time to take action.
NLP is undoubtedly one of the world's most powerful ways to enhance your life to create goals and outcomes that will create the sort of future you desire.
Believe in yourself
Smash through your limitations
Motivate, lead and inspire others
Become an expert in human interactions
A single decision can define the direction of your life
No decisions =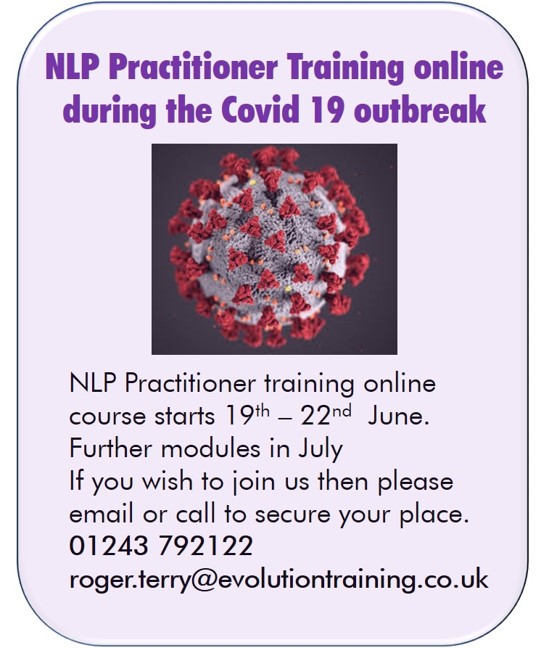 Dates for 2020 (hover for prices)
Module 1: 19 - 22 June Module 2: 3 - 6 July Module 3: 31 July - 3 August online
Be a skilled and knowledgeable NLP Practitioner
Our Online NLP Practitioner Programme is the next step after our NLP Diploma Certification Programme. You will take your understanding of the basic principles of NLP to a deeper level, leaving you proficient and confident utilising NLP tools.
Skills practice forms a critical part of the course guidance, and coaching and exercises are used at each stage to embed knowledge. This provides you with an experience of working with others to successfully execute the tools and techniques being taught.
Change the way you think and behave, and understand what beliefs drive that behaviour. Develop tools to work at a deep level to bring about behavioural and cognitive changes for yourself and the world around you.
Invest in yourself
Develop and enhance your ability to set well-formed outcomes for yourself and others, and identify what limits your performance and holds you back. Learn powerful techniques to change them and how to use NLP model patterns and skills of excellence.
At the end of the programme you will:
Be able to apply the tools and techniques to your own particular life situations.
Have learned advanced communication techniques to positively influence those around you.
Know how to enhance your ability to work successfully in sensitive areas.
Have developed techniques for both yourself and others to replace negative and destructive habits with positive and helpful ones.
At Evolution:
You will train with two Master NLP trainers
Your group size will be limited so that we can provide you with quality coaching and feedback
There are over 2000 skilled NLP graduates trained by Evolution Training
You will be Certified both with INLPTA and ANLP.  Read more…
Communication
Body Language
The Milton Model - Powerful suggestions
The Meta Model - The Art of great questions
The language of presupposition
Framing and re framing
Multi level advanced rapport
Advanced sensory acuity
Understanding Stress responses
Outcomes and Motivation
Resourceful States
Coaching with 'The Solution Focused Thinking Model'
Understanding and working with values
Personal, world and organisational values
How to motivate with values
Access positive states using all sensory systems
Facilitate others to access resourceful states confidently
Brain waves and their affect on mental states and functions
Relaxation strategies
Changing behaviours
Fears and negative beliefs
Swish pattern for changing habits
Eye accessing cues
Eye movement de-sensitisation approaches
Resolving secondary gain
Anxiety and stress reduction methods
Generating new positive behaviours
Conflict resolution formats
Advanced anchoring techniques
Collapsed, sliding and chained anchors
Fast belief change tools
Recoding negative emotional states
Using time processing to effect change
Therapeutic Metaphors
Problem solving
NLP Modelling skills
Perceptual positions to facilitate relationship problem solving
Neurological levels: individual or group problem solving format
Strategy elicitation
Organic negative belief discovery format
Tracking cognitive processes
Strategy installation
Modelling excellent skills
Practical hands on modelling experoence